Mine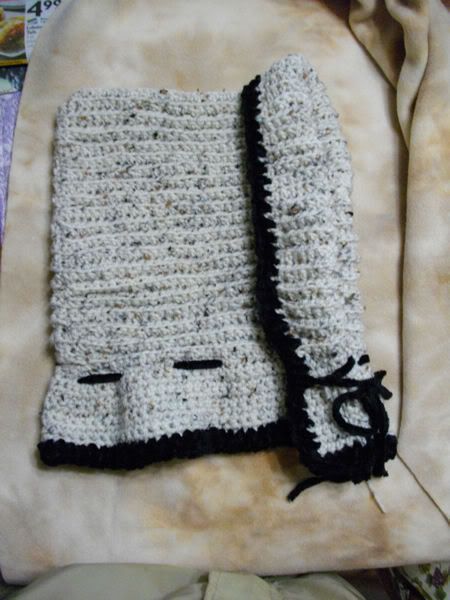 Catalog
At the request of my sister, I made this hood copied from a picture in a catalog.
[This is my own pattern. Mistakes and gauge not set.]
I used worsted weight yarn in Wheat variegated.
Hook size I
Darning needle
Chunky Chenille in Black (for edging and ties)
Chain 147
Single Crochet back stitches only. Chain 1, Turn
Rows 2 - 34 continue sc back st 145
Fasten off.
Fold in half
Sew up the back.
With new yarn on hook begin where you fastened off.
Single crochet regular stitches all across bottom. Chain 1, Turn
Continue for 8 more rows
This makes the scarf portion to cover the neck.
Fasten off
Using Black Chenille hook in where you fastened off in the corner.
This time Single Crochet along all outer edges including the hood for a nice trim.
Fasten off
Cut a string of the Chenille about 2 feet in length.
Using the darning needle begin where the hood and the collar meet.
Thread through 6 stitches, skip 6, all the way around to make the neck and ties secure.